Cocobobro No. 1
Steamed Organic Souvenir
A 20-part collaborative collage book project with Lisa Chun, Los Angeles-based poet and collagist.
2015-2017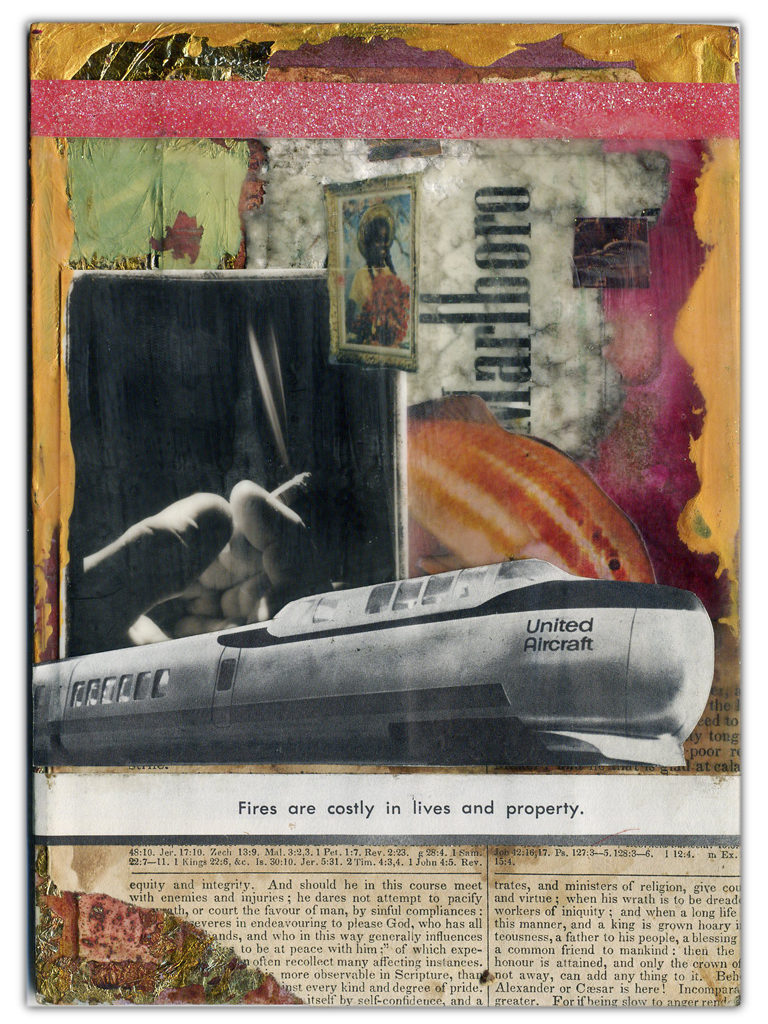 Neither Lisa nor I can quite remember exactly how the connection was made, but it was pre-social media for both of us. Something like we both had web sites up to showcase our work and one or the other of us stumbled into the other's work and made contact through email. There was mutual appreciation and Lisa invited me to participate in a collaborative project with two other artists. That project, which remains unresolved, included 77 2-sided cards. And now that I think about it, that was the first collaborative project for me, and I have Lisa to thank for getting me involved in working with other artists.
The Cocobopros[COllaborative COllage BOok PROjects]work like this:
A collagist is invited to send ten 2-sided 5″ x 7″ boards with some or all surfaces started with any analogue collage technique. I work on them on send them back. He or she works on them a second time and sends them back to me. This goes back and forth two more times until I have had the opportunity to work on them three times, and the artist who started them has the opportunity to handle them a fourth time, with the duty of adding or removing as necessary, to complete the project and call it done. When they are finished, I create high resolution digital images and publish a limited print edition in hand-stitched booklet format (for sale) through The Heavy Duty Press, and an unlimited ebook edition (free download).
Print versions of the books will be available after the first five Cocobopros have been completed.